I really liked Belly's entry for "They Put Me In This Room...", especially the brightly colored television set. So when I saw this
WCIF
I was struck by the idea to make recolors of my own. Though probably not half as nice, grungy, or quite the same shade of electric aqua, I hope you like them well enough. I figured this is too dinky a thing to bother with putting on GoS, so I'm puttin' 'em here. There are four neon-ish TV colors and 4 variously grungy table colors.
The mesh is included and files are pre-compressorized
. In case you can't tell, it's been an extremely boring weekend filled with lots of cartoon watching and
focaccia baking
. I could be out enjoying the last hurrahs of of summer but sunlight is harmful to mine gothly visage. Plus I'm broke.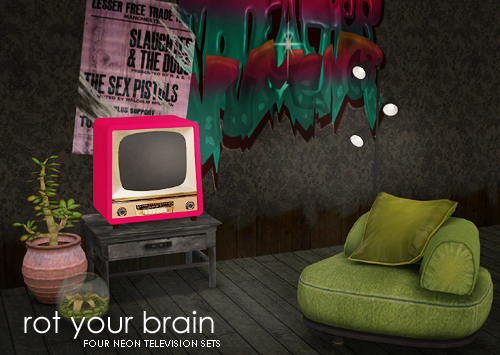 «DOWNLOAD NEON TV RECOLORS»
Current Mood: blah
Current Music: metric - dead disco